Anthony Rizzo Got Mad at Fernando Tatis Jr. After Headbutting His Hip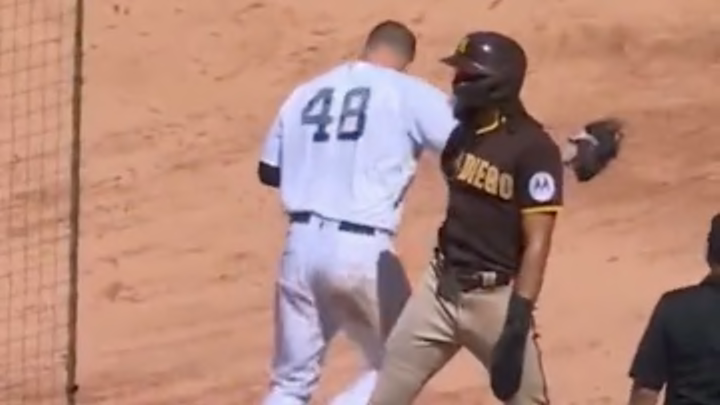 Anthony Rizzo /
The Memorial Day Weekend series between the New York Yankees and the San Diego Padres has been filled with all sorts of fireworks from both sides. During Sunday afternoon's matchup Yanks first baseman Anthony Rizzo shoved Fernando Tatis Jr. after a pick-off but was so shaken up by the play that the shove didn't really land.
It was a bit of an odd sequence, but slow-motion replays shows Rizzo headbutting Tatis' hip.
Certainly explains a lot. Only a head injury would cause Rizzo to stumble in such a way. And since his head was down you can understand why he got up angry. The bird's eye view shows incidental contact but all Rizzo felt was Tatis slamming into the top of his dome.
Rizzo exited the game after the collision and there has yet to be an update from the Yankees on his status.