Anthony Richardson Pass Hits Roof During Pro Day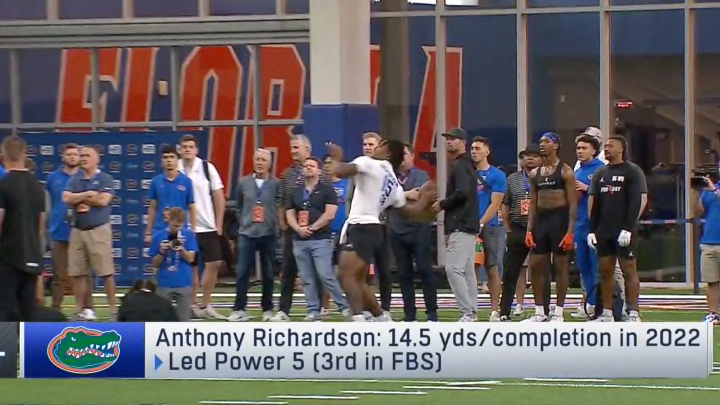 Anthony Richardson /
Anthony Richardson had his pro day Thursday at the University of Florida and there were a lot of eyeballs on the top quarterback prospect. Although there will not be a lot to learn from this showcase. Everybody knows that Richardson can throw the ball over them there mountains. His physical traits are why he's a likely top 10 prospect and may even end up top five. Pro days are only about showing off physical traits. So nobody's mind is going to change based on what we see from Richardson today.
However, the rising prospect did end up throwing a football into the roof, which is either impressive or a bad sign depending on where you're standing.
Another angle:
On the plus side-- it's hard to hit the roof with that sort of arc! You or I could probably scrape it if we threw the football straight upwards but Richardson was trying to throw it forward and put too much arc under it. Not a lot of people can do that. On the down side, Richardson's ability to harness his insane physical gifts is the biggest question mark about his professional future and I doubt any scouts felt better about that after seeing him nail the freaking roof on a go ball.
Moral of this story? The Colts cannot draft him. The kid's arm is too powerful to play in a dome.