Anne Hathaway Invented a New Way to Eat Cupcakes, Beat Kelly Clarkson in a Singing Competition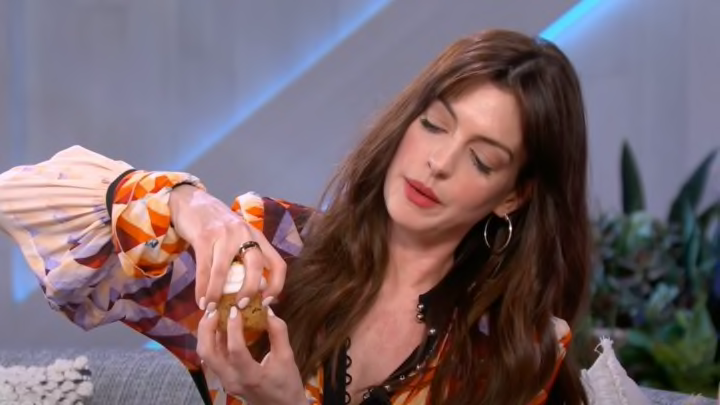 Anne Hathaway was on The Kelly Clarkson Show on Monday. Hathaway and the host played a game where the house band plays a song and the first one to recognize it steps up and sings it. Hathaway was apparently already crushing Clarkson when the band launched into Clarkson's biggest hit and she still lost.
Just a wild scene as Clarkson dropped to the ground, dead, somehow killed by Anne Hathaway in a singing competition. If there was a silver lining for Clarkson on Monday, it's that Hathaway also taught her a cupcake eating hack. Usually when you hear something like that it's attached to some lame TikTok video, but Hathaway actually may have forever changed the way people eat cupcakes.
There's a thin line between genius and insanity and tearing a cupcake in half and turning it into a sandwich is right on that line. It is 100 percent something that feels like would have happened on Seinfeld. What do you do with the cupcake stumps? Put them on top of the cupcake.
The Kelly Clarkson Show remains one of the most insane places on Earth.