Alabama Athletic Director Greg Byrne Rips Big, Maskless Gathering on Campus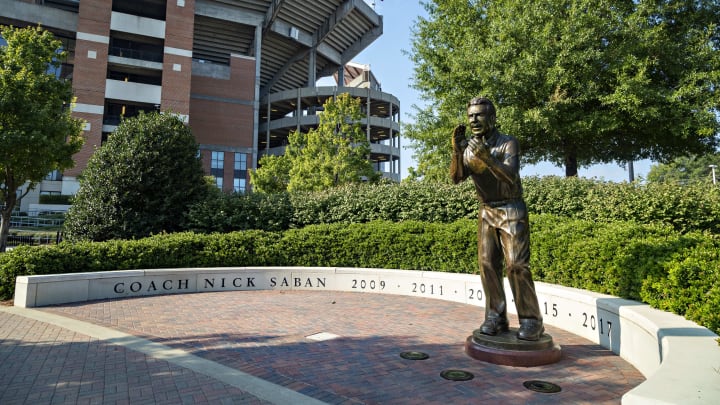 Nick Saban statue on University of Alabama campus, Texas A&M v Alabama / Wesley Hitt/Getty Images
Alabama's athletic director is not pleased with people on his school's campus right now. On Sunday he tweeted out a picture of a large gathering where it doesn't appear anyone is wearing a mask. He lamented that those people must not want to see college football played this fall.
Here's the tweet:
This picture is a nightmare for anyone who wants to see college football played this fall. COVID-19 spikes across college campuses would almost certainly send schools into shutdown mode and sports would likely be the first thing to be shuttered.
A few months ago, Nick Saban offered the same message to fans: if they wanted to see football played they should wear masks and follow CDC guidelines. The people in that photo clearly missed that message.
While the SEC, ACC and Big 12 have opted to keep fall sports on target for now, scenes like this happening across campuses in those conferences could end things quickly. If people want sports they need to mask up and avoid large gatherings.