Latest NFL Leads
Al Michaels Told Eminem He's Not Retiring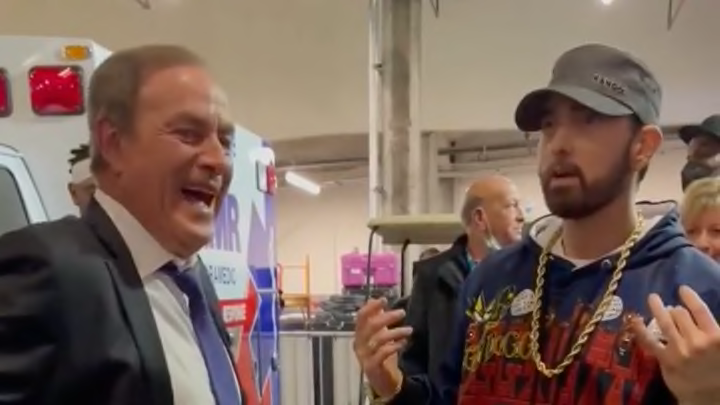 Al Michaels and Eminem /
Last night's Super Bowl was an exciting affair that ended with a Los Angeles Rams victory over the Cincinnati Bengals. Al Michaels presided over the proceedings alongside Cris Collinsworth for the last time on NBC. The longtime PBP broadcaster's contract is up with the network later this year.
Reports from the last six months have consistently pointed to the conclusion that Michaels isn't retiring yet. But we haven't really gotten hard confirmation from the man himself. That changed late Sunday night as he told Eminem that he'll be "somewhere" in response to the rapper bringing up rumors that Michaels might retire.
It is natural to wonder why Eminem is involved at all here. This meeting presumably took place after Super Bowl LVI, where Eminem was part of the halftime show. He's also gone on record numerous times stating that Michaels is his favorite football broadcaster, going all the way back to early last decade when he told GQ he loves Michaels and name-dropped the broadcaster during his bizarre Michigan-Notre Dame interview. The rapper said he was pumped for this year's Super Bowl in part because Michaels was calling the game. Eminem loves him some Al Michaels.
It probably came as great relief, then, that Michaels doesn't sound like he's retiring. What he'll do next is still uncertain, but just about everybody would like a few more years of Michaels on the call, wherever that may be.