Ball Bounces Off Akil Baddoo's Crotch Into Second Baseman's Glove For an Out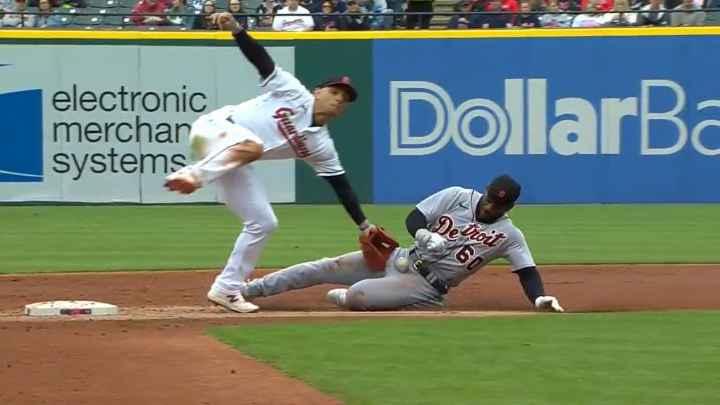 Akil Baddoo took one of the worst bounces imaginable Monday night and our thoughts and prayers are with him. He took a shot to the pills while trying to steal second base against the Cleveland Guardians and it looked incredibly painful. Somehow that wasn't the worst part.
Baddoo's Detroit Tigers were taking on the Guardians when he reached base via walk in the top of the second inning. With one out and Tanner Bibee on the mound, Baddoo got a pretty good jump and took off for second. Guardians catcher Mike Zunino fired a rocket in an attempt to nail the Tigers outfielder, and the ball drifted directly into Baddoo's junk as he slid in. The ball bounced off Baddoo's crotch right into second baseman Andres Gimenez's glove and, and he was tagged out.
Check it out:
That is one of the worst bounces ever. I don't think I've ever seen anything like that and I've been watching MLB for my entire life.
Baddoo remained down for a bit, because of course he did.