Adam Schefter Did the Brian Windhorst Meme Talking About the Jets and Aaron Rodgers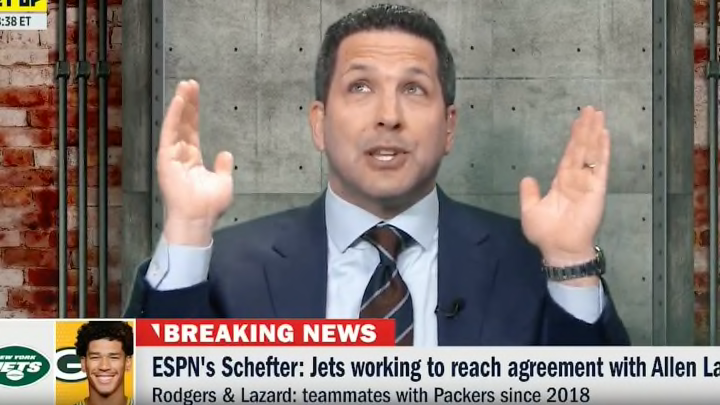 Adam Schefter /
We're on Day 2 of Aaron Rodgers Watch and there is still no sign as to whether the saga will end in the near future. One assumes it has to, because neither the New York Jets nor the Green Bay Packers can afford to sit on their hands and wait for the QB's decision much longer. But we all assumed Rodgers would make his decision before free agency began after he said as much multiple times in public, so it's really anybody's guess at this point.
Adam Schefter was discussing the topic on Get Up this morning and did his own version of the Brian Windhorst meme when linking the Jets with free agent wideout Allen Lazard, most recently seen catching passes from Rodgers.
The meme has truly come full circle if Windhorst's colleagues are jokingly recreating it onscreen eight months later. And it sort of works here, although why the Jets would be interested in Lazar is far more transparent than why the Jazz would trade Royce O'Neale.
The longer Rodgers drags this out the more we'll see the ends to which the Jets are willing to go to entice him to seal the deal. Which is great content. So at least on that front Rodgers is doing us all a solid.