Aaron Rodgers No Longer Fears Death Like He Did When Y2K Was Approaching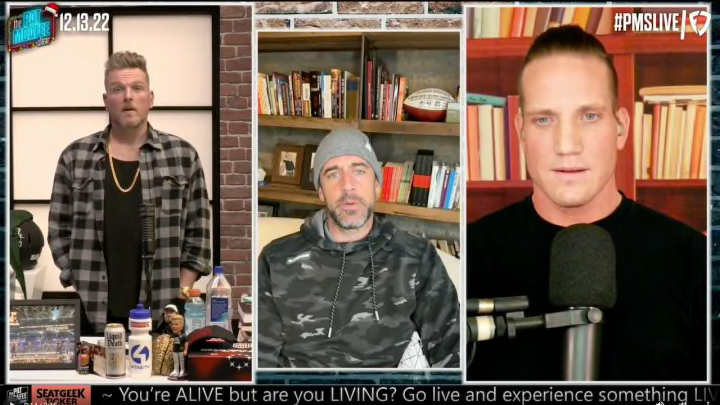 Aaron Rodgers made his usual appearance on The Pat McAfee Show on Tuesday. While the newsworthiness of the guest spots has subsided as football season has progressed, the heaviness of the subjects covered does not appear to have decreased. In this clip Rodgers' former teammate AJ Hawk asks him if he's scared of dying.
The question was based on Rodgers' infamous use of ayahuasca which raised plenty of eyebrows in the offseason. Both Rodgers and McAfee seemed surprised that Hawk brought it up now, so much later, but maybe this is just his first opportunity to ask a question during one of these appearances.
Rodgers' actual answer starts out unintentionally hilarious as Rodgers looked back at his fear of Y2K, but then gets deep and personal in a way that you can actually identify with. (As opposed to some of his previous question asking.) Rodgers then ties it back into the ayahausca, which helped him with those fears when he saw "the other side." This of course leads to a classic McAfee moment as he contemplates Rodgers seeing death before ultimately saying, "sweet, dude."
As unique an experience as ayahuasca may be, it is still nothing compared to Aaron Rodgers speaking freely on McAfee.