Aaron Rodgers Invented a New Term While Trash-Talking in the Preseason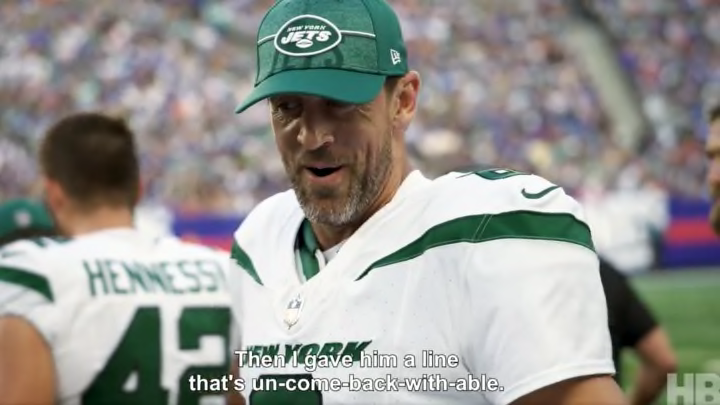 Aaron Rodgers made his New York Jets debut last weekend as his new team met the New York Giants in the third week of the preseason. Rodgers completed 5 of 8 passes for 47 yards and a touchdown. Rodgers was in for just two drives and wasn't sacked, but the play of the offensive line allowed him to be touched by Jihad Ward, which Rodgers did not like one bit.
In a moment captured by the Hard Knocks microphones, Rodgers confronts Ward for taking multiple steps before hitting him with his shoulder long after he'd gotten rid of the ball. Rodgers immediately tells him it's bullshit and the two go back and forth claiming to have never heard of each other. The word "bro" is thrown around multiple times.
Despite the fact that Rodgers refers to himself as "the bear," which you can no longer do because Jeremy Allen White now owns that name, he cleaerly wins this debate. Ward defnitely knows who Rodgers is, while it's entirely possible that Rodgers really doesn't know who Ward is. And the people are loving it.
It doesn't matter if Rodgers ruined it by saying "un-come-back-with-able" because maybe he actually introduced a new term into the lexicon. Either way, it's hilarious that Aaron Rodgers' trash talk is basically "don't you know who I am?" If a star gets into it with him this season he should expect Rodgers to ask to speak to his manager.