Aaron Rodgers Not Pleased After Christian Watson Drops Easy Touchdown Pass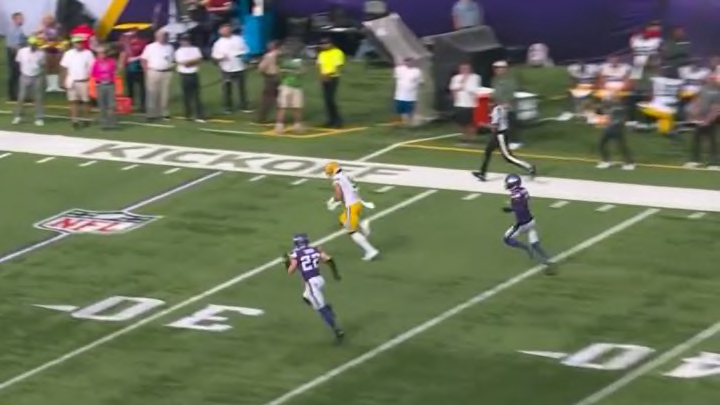 Aaron Rodgers and the Green Bay Packers are kicking of the 2022 NFL season by facing the Minnesota Vikings on Sunday and things could be going better. With Davante Adams gone, the Packers have a new-look offense with a number of young receivers. One of those guys made a big mistake early on, and Rodgers was not happy.
On Green Bay's first play from scrimmage, Rodgers found rookie wideout Christian Watson running free up the right sideline. The reigning two-time MVP threw a perfect ball and hit the 2022 second-round pick right in the hands. Watson dropped it.
Check out video below:
That face at the end says it all from Rodgers. Just completely annoyed.
Here's another look. Watson absolutely had Patrick Peterson cooked and had an easy touchdown if he made the catch:
Yeah, I'd be annoyed too if I was Rodgers. Good luck to Watson getting the notoriously prickly quarterback to trust him again.