Latest NFL Leads
Aaron Donald Cries During Super Bowl Postgame Interview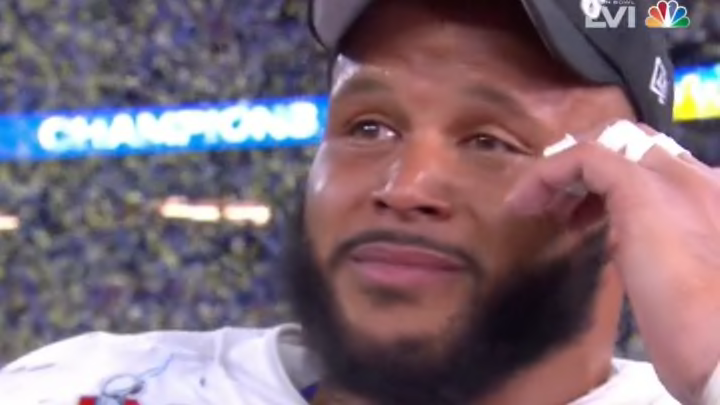 Aaron Donald /
The Los Angeles Rams won Super Bowl LVI on Sunday evening, taking down the Cincinnati Bengals by the score of 23-20. Aaron Donald, unsurprisingly, was absolutely dominant against Cincinnati's subpar defensive line, notching two sacks on the night. Most importantly, Donald shut down the Bengals when it mattered most, stopping Samaje Perine short of the first-down line on third down before forcing Joe Burrow to throw an incompletion to end the game.
Donald, who told Rodney Harrison he would think about retiring if he finally won a ring, gave a very emotional postgame interview in the immediate aftermath of his team's victory and shed a few tears. It clearly meant everything to him and he was most excited to bring his kids down from the stands to celebrate with them.
This was the last mountain for Donald to climb. He's won Defensive Player of the Year on multiple occasions and was named an All-Pro in every season as a professional. He's done everything imaginable for a defensive player-- and now he has a ring to top it all off.
If this is it, Donald's resume is one of the best the NFL has ever seen. Utter domination from Day 1, capped off by single-handedly making the two plays needed to win the Super Bowl. He's more than earned everything coming his way.