Aaron Boone Freaks Out, Throws Gum After Getting Ejected For Complaining About Horrible Strike Call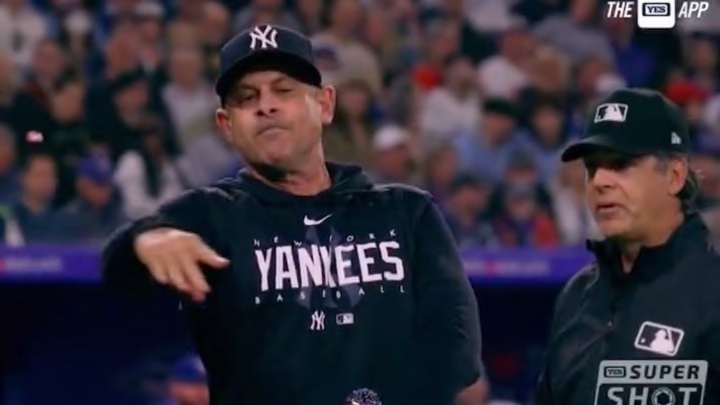 The New York Yankees had a 6-0 lead over the Toronto Blue Jays in the top of the 8th inning on Monday night when home plate umpire Clint Vondrak called strike two on Aaron Judge on a very low pitch. Aaron Boone took immediate issue with the call and earned an automatic ejection. And then things got interesting.
Boone came out to have a very serious conversation with Vondrak that clearly included multiple f-bombs. This went on for a full minute as Boone ranted, gesticulated and stuck his finger in Vondrak's face before crew chief James Hoye finally convinced him to leave. At this point Boone threw his gum and stormed back to the dugout. Replay showing the gum toss is especially good.
Keep in mind, this was with the Yankees up six in the eighth. And Judge hit a homer three pitches later. And the Yankees won 7-4.
And here's one final twist. The Blue Jays broadcast picked up on Judge picking up on something during that at-bat, showing him glancing towards the Yankees dugout before each pitch, including the one he clobbered.
So it seems pitcher Jay Jackson may have been tipping his pitches. Which is why Judge laid off the pitch that was so low that caused Boone to argue balls and strikes. What an eventful at-bat!