Aaron Boone Calls Blue Jays Pitching Coach 'F--king Crazy'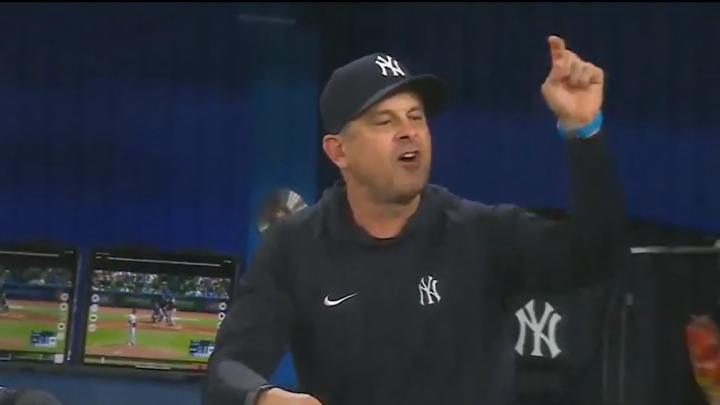 The New York Yankees and Toronto Blue Jays are in the middle of a contentious serious that has seen accusations of cheating toss in New York's direction. First, Aaron Judge was peeking into the Yankees' dugout during an at-bat, then Domingo German was ejected for having a foreign substance on his hand. The two teams don't like each other, and that exploded on Thursday when Yankees manager Aaron Boone yelled across the diamond into the Blue Jays' dugout.
Boone got into it with Toronto pitching coach Pete Walker, and yelled at him.
Here's video:
For those scoring at home, that's, "You're f---ing crazy. You're crazy. Sit the f--- down, Pete."
No idea what got Boone so riled up but both teams have been chirping at each other for the entire series and it seems to be boiling over. The Blue Jays fully believe the Yankees are cheating, despite their protestations otherwise.
Man, you have to love a budding MLB rivalry.