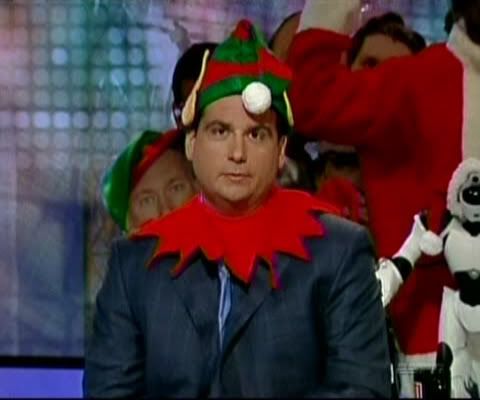 Ever since bon vivant Dan LeBatard penned this guest post for us, we knew we needed some more of "that bam guy" on this site. A live chat seemed logical. LeBatard is – or rather was, until last month – one of sports journalism's most bogglingly prolific triple threats: Print, radio, and TV. We've been fielding questions from you guys for the last 24 hours, and he has a bunch of them. We'll be updating his answers for the next hour, and keep the questions coming (thebiglead@gmail.com). And … we're off …
Q: Are the Heat really considering dealing D Wade?
LEBATARD: the deal being rumored makes zero sense…..wade and the no. 2 for the no. 1…..why trade up to no. 1 to get rose if you THINK he might be dwyane wade when you already HAVE wade?…..you are praying rose is chris paul…….but that's too much to give up…..trading him makes no sense unless it is for paul or lebron…..i've never thought there is much difference between kobe, wade, lebron, pierce, t-mac….they all would have won with shaq in his prime
Q: How come five months into the off season, the Phins cant deal Jason Taylor?
LEBATARD: Mort says the best offer they got was a fourth-rounder….that's not enough for a guy who was defensive player of the year a season ago….if you can get a second rounder for chris chambers from a desperate team during the season, then you should be able to get it for a pass-rusher closer to season's start
Q: Has the Steroid Era diminshed Ken Griffey Jr.'s 600 HR's?
LEBATARD: these questions are so serious….i'm used to these chats being filled with nonsense and mockery….feel free to send those along….i'll answer anything…..criticism is welcome…..embraced, even…..steroid era, now that it has been exposed, elevates griffey, i think…..elevates andre dawson and his ilk, too….we know everyone went through the pharmacy, and we have a pretty good idea griffey would have been better if he had done so too….hgh is so misunderstood…..we should all be using it….i'm thinking about taking a cycle as a societal experiment for our radio show
Q: I know he's probably familiar with the story of the 7th Floor Crew, and I know he's a defender of athletes, even puckish… So in light of things like that getting leaked, how much of an athlete's life is fair game?
LEBATARD: I think it is strange that I get called a contrarian or an apologist because i explain behavior instead of excuse it…..i don't really defend athletes; i just don't spend much time judging them…..seems too much media time is spent standing on a soapbox and telling athletes how to behave….we all know that it would be better if all athletes were like peyton manning…..boring, but better….it would be ideal if no one got caught up in fame and glory and me-me-me….it is also ridiculous to think that sports would be this utopian playground any different than any other petty workplace….so i try not to judge….fail all the time but try not to….and we're so comfortable judging and yelling and ripping and castigating that i get called the apologist…..anyway, to answer your question, everything is fair game now….blogs have changed the landscape….athletes need to be careful around anyone with a cell phone…..new media will force old media to partake in the gossipy crap….i've never before seen a newspaper do what the new york post did to arod — photographing him and a woman outside an elevator….i think the shift started there….we're never going back….it is what the people want….and newspaper literally can't afford to be too moral or prude about it anymore
Q: 7th Floor Crew or 2 Live Crew
LEBATARD: 2 live crew….i just got an invite to luther campbell's wedding…. can you believe this? …i can't….i'm going, for sure….any idea what that is going to be like? any theories? does one bring a date to this time of thing?….the best thing to come from the seventh floor crew, so to speak, is that tavares gooden referred to himself as king dingaling….ah, higher education….i wish people called me king dingaling
Q: Whats the weirdest thing to happen to you at 3 AM?
LEBATARD: a pretty drunk woman found me interesting and sexy….and there was also that time when i drank too much and got a little crazy with a device called 'the penetrator' and an elk
Q: First you ditch The Herald. Now your chatting at the same time as Cote. Harsh danny!!
LEBATARD: Am i really going against Cote? i thought he was mondays. that's an accident, really….i'd suggest you all go to herald.com and check him out — Greg Cote, The Herald's featured sports columnist….i'm sure it is funnier than whatever we are doing here.
Q: Have you ever smoked weed with Ricky Williams. Ricky Williams referred to you as "his best friend" on his web site. Does that make you at all uncomfortable?
LEBATARD: I was following Ricky around for a book for a long time, and we ended up in a lot of interesting places…..i'm not a potsmoker, though, and the only time i can ever remember him being around it in my presence was one time in an amsterdam coffee house……he kept that stuff hidden from me…..i read about his second failed drug test in another newspaper……our relationship took a brutal hit when he retired at least in part because of my fears…..the paper and i were trying to manage a conflict of interest, given that i was writing a book with him, and i failed in sports….the friendship got in the way of the journalism and the journalism got in the way of the friendship….there are some moments i'd like to have back….as for best friend, i'd say ricky at that time had very few real friends….he didn't know how to be a friend back then, i don't think, and i sure as hell didn't know how to balance friendship and journalism…but from everything i hear about those close to him he is in a much better place….he's going to make that climb back to the top this year, and i wonder if the media will reinvent him the way the media has josh hamilton
Q: Is it true you and Salguero hate each other. Has any print journalist has done a worse job transitioning from print to TV than Salguero?
LEBATARD: love armando….respect his work, too…..nobody has ever covered the dolphins better….and i'd say that i've done a worse job of making that transition than armando
Q: Did anyone at ESPN ever talked to you about your fluctuating weight?
LEBATARD: no. but that's a funny question. espn, i think, allows some guys on the air just because the idea is, "If we put someone who looks like THIS on the air, he must know what he is talking about."
Q: Is Kornheiser's contempt for you on the air is real or an act?
LEBATARD: we're very good friends….i have photos of him holding up a pig's head at my house on Christmas Eve….he isn't acting, though….i do annoy him….i can be pretty annoying, you know?
Q: During your time off, any chance we'll catch you in the mountains of India with Ricky, a Shaman, and about 10 pounds of "incense"?
LEBATARD: not really time off…..still doing radio…..too many people relying on me at radio station for me to just vanish the way i will from herald and espn….i do plan on doing some traveling, though…..to dania jai alai, among other places
Q: What's with all the …. . don't you know how to just end a sentence?
LEBATARD: just interested in being quick……if punctuation is your thing, this isn't the place for you
Q: LeBatard, what's your views on Tiger and whether or not he's an athlete and if he is, where does he rank among other greats?
LEBATARD: not an athlete…..what he does is a skill, not a sport….it is like being a brain surgeon or a seamstress…..golf isn't a sport….you can't be eating an apple during key moments of athletic triumph…..that said, he's a better athlete than everyone else doing that…..but it isn't a sport when someone carries your stuff and the most grueling thing you do is walk
Q: Have you ever been mistaken for Artie Lange?
LEBATARD: i get that one a lot…..and flounder from animal house…..good company, comedically…..not so good, physically….i've also been told that i'm the lovechild of mike golic and christopher from the sopranos
Q: Is Star Jones and Dwyane Wade the creepiest thing this year or the creepiest thing ever?
LEBATARD: i'm in no position to tell anyone else whom to love or how to be happy…..nor am i in any position to comment on the physical appearances of others….i just got compared to artie lang
Q: Why does Kornheiser hate you so much?
LEBATARD: Doesn't hate me…..we went to a broadway play together ….does that admission get any more masculine if i say it was "Spamalot."?
Q: LeBron or Kobe?
LEBATARD: they're the same, i think
Q: Were you trying to mess with Jo-Po by sending him to that Italian restaurant, or do you just have the worst taste in food, like, ever?
LEBATARD: if jo-po had the food, he'd tell you himself it was the best italian he has ever had…..i tell people all the time that cafe martarano in ft. lauderdale will be one of the top 10 dining experiences of their life and i've never once had someone complain……unfortunately, our boy never got in…..if he did, he wouldn't be bitching
Q: why are you "the hateable dan lebatard?" and do eagle scouts get parking tickets?
LEBATARD: it is a silly gimmick we developed a long time ago because anyone who replaced tony or mike on that show is going to fail and be worse and be unloved…..might as well embrace it….i don't mind mocking myself….what i do for a living is absurd
Q: David Stern is considered by many as the best commissioner in professional sports, which is probably why he can get away with the smug attitude. Why do you think that is, and when do you think it will bite him in the ass? Is the Dick Bavetta investigation the tipping point?
LEBATARD: he's taking a pretty big hit these days….he is always the smartest man in the room….and he knows it….and he carries himself as if he knows it….but calling donaghy names isn't making this go away….it is much bigger than spygate, even if it is isolated…..donaghy has credibility problems, but the only time you ever get this kind of info is from someone with credibility problems….credible people don't say these things, even if they are true….I'd like to hear what Bavetta has to say….because we learned with canseco that, even though someone is dancing on the surreal life in a lavender spedo, it doesn't mean he isn't telling the truth
Q: How much did being in Miami have to do with your decision to work for the Herald? Is location always a factor for you?
LEBATARD: lived here all my life…..wouldn't want to live anywhere else……here, san diego and sydney, australia are the only places i've been where i could live….i want to be near my family
Q: When Ricky Willams left the league the first time, you were the only one who came to his aid on that decision. Now be honest, were you smokin' doobies with him?
LEBATARD: i was high every time i've ever been on espn…..but it is usually a crack high….do we still call them doobies?
Q: Dear Dan – We often hear the critiques by the "mainstream" personalities of sports journalism that blogs are crude, cruel, lack standards, and are written by someone in their underwear. But, what do you and your colleagues make of legitimate criticisms that can arise in this forum, such as those that relate to lazy reporting and hackneyed cliche-ridden writing? (Not mentioning any names) Does such criticism serve as a viable watchdog for the newsroom? Or, does it merely entrench the mainstream garrison mentality further?
LEBATARD: i find fascinating that espn has purchased all the watchdogs….almost all the people who should and would be criticizing espn in the mainstream media are collecting paychecks from espn, so bloggers act as a necessary watchdog on us….i'm always for 'different'….and if blogs can be different in coverage, then we as sports fans can be discerning about what we want and don't….newspapers HAVE gotten lazy…..less spending, less effort….people grow up and move on with their lives and very often people in sports media have been urinated on so often that they don't even much like sports any more….that's why i admire bob ryan so much….he goes to the super bowl in jacksonville and goes to a college basketball game while there for fun…..he covers this stuff like he still cares, which is how a lot of bloggers do…..it isn't a job for them; it is a joy…..a lot of times — not all the time — it is the reverse when you work in the media
Q: Why is baseball (attendance) failing in Florida? The Marlins & Rays are two of the best stories of the season so far, and as of this morning they are 2 of the worst 3 teams in average attendance per game. Isn't Miami like the 5th biggest market in the country? What gives? Those two crappy stadiums can't be the only reason……
LEBATARD: i like what my friend boog sciambi says — nobody goes to marlins games because we're all too busy windsurfing…..miami has a perfect storm of crap….bad weather….bad stadium….bad location….bad betrayals….bad payroll….nobody wants to be rained on….the new stadium will help…..tampa plays in the worse stadium anywhere in sports, just about…..but i suspect that attendance will improve as the team keeps doing so
Q: dan, settle the debate once and for all. the best player in the NBA right now is whom? and why.
LEBATARD: if i have to pick one guy right now, i'd take duncan and build around him….duncan would be in the finals again if ginobli hadn't been broken….give me the lowpost guy over all the guards in the world
Q: dan, you've said before that the newspaper business is bleeding. How will journalism look in 10 years? Do you think the blogosphere and the mainstream media will ever coincide with each other to produce information not only rapidly, but accurately?
LEBATARD: the information we produce will always have value….it just won't land on your lawn any more….we'll all melt into the internet….newspapers are still the place that tv news and radio news start….but the product and standards will get diluted, inevitably, as the need to be first slowly kills the need to be right, accurate and fair
Q: Whilst in the company of Jay Mariotti, did you want to stick an axe in his forehead or disembowel him with a pair of butter knives?
LEBATARD: don't know him very well at all….he's always been nice to me…..some people group me with him and bayless, which makes me uncomfortable because it suggests i lack a great deal of self-awareness because i don't see myself as that kind of strident…..but maybe i'm an idiot
Q: Does it bother you that viewers across the fruited plains turn off their televisions when you are guesting on PTI?
LEBATARD: fruited plains….great phrase….there are a lot of fruited plains here on south beach…..no, doesn't bother me at all….i can't believe i'm allowed on the best show espn has….and i know going in that i've got no shot to be loved, none, when i'm replacing the thing with which everyone is most familiar and comfortable — which is tony and mike, who are the best.
Q: ask him if he got in trouble for his racist remarks on ESPN or if that "apology" was genuine.
LEBATARD: racist? i don't know if what i said was racist….i was trying to compare the dolphins to a ragtag bad news bears bunch with a mexican-american receiver, a bunch of somoans and a mormon quarterback…..a collection of different people….but i stepped in it…..we walk that edge on the radio show all the time….when people call in to say the lakers are softer than the celtics, they are really criticizing the foreigners…..the white foreigners…..so what ends up happening is that the analysis becomes this: the celtics are winning because they are more african american!…..that's funny to me….and dangerous in today's climate…..scott pollard! brian scalabrini! how do they feel when the celtics are chanting "umbuto!" to break huddles? what do they chant?….i like playing with this stuff….i think it is absurd how careful and politically correct we are….but i understand why espn, owned by disney, would not want to be near any of this stuff….to answer your question, there was no trouble….but my apology was genuine….i don't ever mean to harm anyone….
Q: Could he spear Mike Lupica while he's pontificating in the Sports Reporters set?
LEBATARD: i get some version of this question — spear, slap, punch, kick in the groin — more than just about any other
Q: Why does Wilbon get all the hot sports journo groupies?
LEBATARD: Because he's just about the most lovable dude in sports journalism….i don't know anyone who dislikes that guy
Q: Short of slitting his own throat, is there any way Nick Saban can get you back on his side?
LEBATARD: I was too harsh on nick, actually…..terribly, terribly judgmental….spoke for a lot of people, but that doesn't make me feel any better about it….there were kinder ways to write and say the same things
Q: Obama or McCain?
LEBATARD: mccain…..i'm a liberal republican, whatever the hell that means….but i have no idea what obama stands for other than being a tremendous speaker……he has no credential for that position….none….the republicans scare me, as does mccain's age…..and i love how obama moves people with rhetoric, but i have no proof that there is anything more than rhetoric there….we love style, though….he does look presidential…..
Q: Danny Boy: Are there sportswriter groupies?
LEBATARD: i haven't met very many of them….it is always the same guy coming up to me in the nightclub — 300 pounds, a little sweaty, wanting to talk about shaq's free-throw shooting….does that count?….it is never the supermodel
Q: where's all the hate for josh howard….same attitude as ricky with much less hate coming his way. Don't get me wrong though…total BS, they need to lay off with the hate.
LEBATARD: strange, huh? that ricky would get an unprecedented penalty for marijuana, the most benign of drugs?….josh howard has learned what many athletes have — doesn't pay to be honest anymore….we like honesty in theory right up until we get it, then we take sides and beat you up for being honest…..better to be cliche…..we'll make you tiger, brady and jeter is you never say anything at all
Q: Mister Dan, Josh Hamilton didnt need help from the media. he did it all by himself with his bashing of AL pitching.
LEBATARD: that story wouldn't be covered the same if he were black, i don't think…..is there a black john daly? applauded and rooted for even though he has blown all his talent?
Q: Has he ever gotten laid strictly because he is an espn "personality"?
LEBATARD: yes….it was memorable and majestic….he was so gentle, with a mustache not unlike Dave Wannstedt's
Q: Who's the biggest a-hole athlete you've dealt with who is currently playing?
LEBATARD: Chili Davis….went up to him one time and asked for a few minutes….he told me to have a heart attack….i asked him if he was serious….he said as serious as a heart attack….had some bad moments with barry bonds, who made me feel very small….but he's also produced the best interviews of my life, crying at his locker while telling me how lonely he is
Q: We get a lot of images of the city of Miami from pop culture: Nip/Tuck, the reamke of Miami Vice, GTA: VC, and Scarface (which were really the same thing when you think about it). Which is the most accurate?
LEBATARD: love south beach…..here's how it happens if you walk a few blocks: is that the smell of vomit? there's matt damon. there are four of the most beautiful women i've ever seen. this smell like urine. why is that person arguing with himself. those four women are more beautiful than the last four. mmmmm. pizza.
Q: Will roving Haitian gangs open fire on me when I'm cruising down the strip in a beat up stolen Ferrari
LEBATARD: you'll fit right in here
Q: What makes you feel qualified to make such a sweeping generalization about "White America" re: black athletes, like you did here: "White America-what the mainstream media is-is uncomfortable with a certain kind of Black man. It's represented by loud, defiant I don't give a fuck what you think Terrell Owens and Barry Bonds."

LEBATARD: 20 years talking to white people?
Q: How DO you, especially as someone close to athletes, balance journalism and friendship?
LEBATARD: just try my best….fail all the time…..try to make athletes understand what i do and why i have to do it and have conversations about my job….but the idea is to get fans close to the athlete, and i ask a lot of curious questions that are different and athletes, i find, especially the misunderstood ones, like to be understood and engaged….i don't really have that many friends who are athletes….
Q: What happens if i get stuck between the moon and New York City?
LEBATARD: wish i had gotten more questions like this….the question is funnier than any answer i can give
Q: Javon Walker is lying in a hospital room with his face rearranged during what looks like a wild weekend in vegas. best vegas story you got?
LEBATARD: it involves two strippers, a brothel, a donkey, a police officer, an elephant, the late hunter s. thompson and a suitcase full of cash and heroin……i'm so cliche
Q: any advice for a weekend trip to vegas? hotel? strip club?
LEBATARD: hard rock…..more beautiful people per square foot than anywhere outside miami
Q: Uh…what if any opportunities does Chad Johnson really have outside of playing football?
LEBATARD: i'd love to see him on the celebrity family feud…..maybe river dancing…..fathead commercials…..circus clown
Q: have you talked to sean salisbury lately and did you ever get any racy text message from the guy?
LEBATARD: racy text messages from sean? are there any other KIND i get from him?
Q: ever bump into any movie starts in miami?
LEBATARD: ridiculously enough, i ended up at matt damon's house watching pats-colts with him this year….he's a big sports fan….i argue with him at the gym (yes, i go to the gym)
Q: Ask him about his thoughts on Randy Shannon and if he will bring back that swagger?
LEBATARD: never understood what that meant? swagger? miami's defense was dancing on the field either last year or the year before, getting back to being the old canes, and north carolina immediately scored on a 50-yard reverse….swagger is nonsense….you can swagger when you have six first-rounders in your huddle
Q: Baseball players can eat apples and chew tobacco in the dugout during games…are baseball players athletes? Football players can eat apples and cycle HGH on the sidelines during games…are football players athletes? Basketball players can eat apples and smoke weed while on the bench…are basketball players athletes?
Dumbest. Argument. Ever.
LEBATARD: golfers aren't athletes, period….they are people with great hand-eye coordination……darts is just as much of a sport…..billiards too
Ok everyone, that'll be all. The server (aka Billy Wagner) held up nicely there, despite a few shaky moments. Let's everyone thank Dan for his time. We hardly had time to read his responses, but watching Colts/Pats at Matt Damon's house sounds pretty rad.
Leave a Reply